At present the total beneficiaries of Aakash Maindwal Foundation" has reached to a figure of 175 (One hundred and Seventy Five).
Social Change is constant, continuous, unavoidable and inevitable. Social transformation is the result of positive actions to improve the environment in which marginalized/afflicted/affected are assisted to progress. Aakash Maindwal Foundation is a reformer of all the deprived girls of Vaishali and Kaushambi area who are unable to pursue their studies due to their family problems. These underprivileged children are not able to study for want of money and improper guidance. We help children to recognize and express their individual interests and abilities. We instill in them a sense of belonging and support them in realizing their dreams. We also ensure that children receive education and necessary skills training to be successful and contributing members of society. We help them to find their path and shape their own futures.
AMF believes that the desired changes in the lives of such children will come only when more and more privileged people will join this movement. The Foundation also believes that the only way to ensure a better future for these children is by educating them.
"Aakash Maindwal Foundation" since its formation (03/09/2009) has been keenly interested in educating the underprivileged girl children. That's why Aakash Maindwal Foundation' (AMF) is encouraging dropouts to continue their studies through National Institute of Open Schooling (NIOS). The foundation initially started by teaching the girl children from the house. These underprivileged girl children's were then taught in the Ground Floor of the Apartment at the Correspondence address. Due to increase in the number of children the foundation entered into a new venture on 8th July 2012 by taking a rented accommodation and opening an institute called "TAMANNA" at 165-A, Kamana, Sector –V, Vaishali, Ghaziabad. The number of children kept on increasing and the foundation took a two room rented accommodation in Sector–5, Kalpana, Vaishali, GHAZIABAD. Then we shifted to 5/94, Kalpana Apartments, Sector–5, Vaishali, GHAZIABAD. Now new address of "TAMANNA" is 84 Gulmohar Lane Sector–5, Vaishali, GHAZIABAD. Our aim to provide basic Secondary (10th) and Senior Secondary (12th) School Education to as many children as possible in the cluster of Vaishali, and Kaushambi areas of Ghaziabad. Further we want to ensure that all pass out girls take admission in Graduation as well..
At present the total beneficiaries of Aakash Maindwal Foundation" has reached to a figure of 175 (One hundred and Seventy Five). We now have strength of around 150 girls and 25 girls are being supported from outside. These 25 girls are taught only when they come to attend classes. All these girls belong to underprivileged family. The main aim of our foundation is to bring them to the main stream like others. Out of these One hundred and fifty girls around 60 are studying in Secondary / Sr. Secondary level education from "National Institute of Open Schooling (NIOS), NOIDA.
Five to Six subjects are being taught to them daily by two different teachers. These girls are being taught for more than 335 days in a year on regular basis.
During 2017-18, 30 girls have passed Secondary and Sr. Secondary from NIOS and CBSE Board. All these twenty five Girls of our foundation have taken admission in Delhi University (School of Open Learning).Around 40 or more girls are carrying out other studies such as learning Basics of Computer, English Speaking and Mathematics.
Twenty Five Girls have joined call centre jobs (Day Hours) and some of them have joined as a sales girl in branded shop outlets. All the passed students took the admission in Delhi University in June 2018. Few Girls are doing graduation from other universities as well. Foundation is bound to help them in continuing their studies.
Graphical representation of Growth of "Aakash Maindwal Foundation" in Six Years is as given below.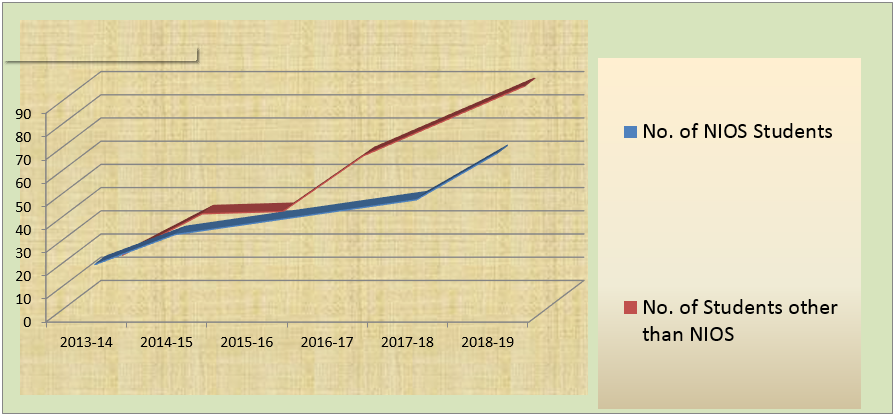 The Breakup of foundation beneficiaries are as follows:
S. No.
Category
Total
1.      
Students Appearing in class Xth & XII 2017– 2018 (April Batch) directly Supported by AMF
70
2.      

Students Passed Sr. Secondary from (NIOS & CBSE)took admission in Delhi University (SOL) directly Supported by AMF

 

25
3.      

Other then NIOS girls around 65 girls are also provided Basic Computer Education (Microsoft Office), Spoken English and Mathematics.

 

65
4.      
Students Started doing Job ensured by AMF

15

 
 
Total
175